Well the weather messed up my plans so i had no lift to the show but after finishing the rebuilding my LH carb in the morning, the weather looked to be getting better and after asking Mike and Craig it sounded clear over there too! So a lengthy test run was in order!! The running problems persisted but only at idle so a bit of fancy footwork at roundabouts kept things running generally. Twas a nice afternoon, the sun was out the hills around covered in snow, it was easy to park close to the hall and i met up with Mike (WITH orange shorts!) and his mate (he's looking for KatS bus...are you selling? pm Spikeemikey). Good to meet you, hope to see you at a show in the future. Craig had left already but i did see a FuKW78 (at the very last second) as i was near the A51 crossing. Who was this?? nice bus!
At this late time of the day there were some advantages, easy access(!) and plenty of room to scoot around the stalls! Of course, you miss out on any parts gems but i only wanted a spare thermostat (none!) and maybe a few tees.
Didn't buy much, had a good wander, took some pics and after a stop for the traditional expensive burger and coffee had a nice steady run back in the company of a row of Bays + Passat and Golf. The sun was setting as i approached home....and the van was caked in mud salt! Stopped at the jet wash (first time i have jet washed it) and it looks much better.
I couldn't bear missing it as i had been looking forward to going for weeks!
A very nice Erkkw belonging to Mike.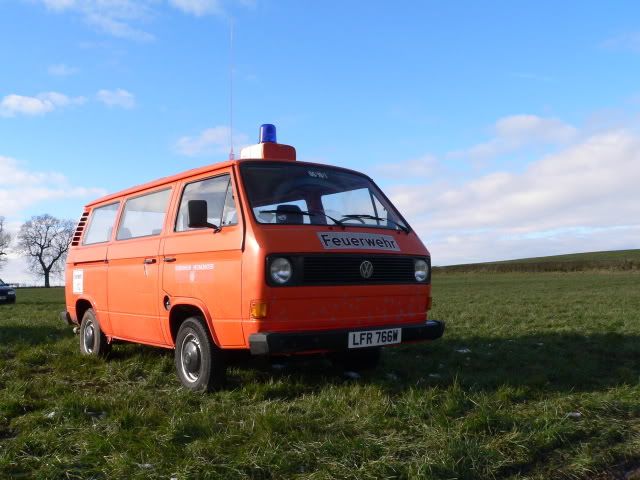 A nice ex military Syncro looking good in the late afternoon sun!
I brake for cake...especially battenburg!
That's all there were, i did arrive rather late!