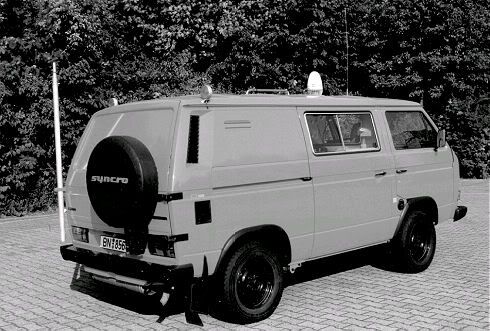 So what happened to this little beauty!? Only 1 prototype built? Where is it now?! I like it!
---
There should be more Syncro Buses from the KatS. But I can't remember one now.
At least the Federal Police ("BGS", "Bundesgrenzschutz", "Bundespolizei") had lots of T25 Syncro.
By the way: Number plate BN-... is Bonn near Cologne. Why do they need a Syncro?
I know from some fire brigades and KatS that have some 4x4 vehicles, usually in areas with mountains, steep elevation changes and few roads.
When I pom around...
---
This is a prototype converted by Brunn in Bonn, hence the plate! Or maybe they have dodgy roads!
Now if only we could find this in some garage somewhere....covered in dust (dream sequence starting), with 10km on the clock...hmmm
J
---
It actually is a prototype, compare KatS Models - Individual 1:87 models I.
Looking for a successor for the 200 181 Trekkers and 286 T3 Kombis this ABC-ErkKW prototype based on a 16-inch Syncro was built in '89. Followed by a T4 Syncro prototype in '94. Confusingly their appearance is very similar to a FüKW-TEL.
Love's labour's lost, finally the Fiat Ducato was drafted and 371 '98 models were delivered very quickly after 911
---
Thanks Roland, very interesting! It's a shame they didn't manage to get a contract for a couple of hundred of these for the Katastrophenschutz! Ahh well, where is this one though? There's a challenge Roland!
J
---
The whereabouts of the T3 seem to be unknown, but I'm working on it, a challenge indeed!

Both, T3 and T4 were individual pieces and the LWB T4 for all that ended up at Feuerwehr Hamburg-Bergedorf. The original colour was RAL 2004 reinorange (what else?), but now it's stuck allover in RAL 3024 leuchtrot foil! Other modifications are e.g. the different blue lights.
Attachments

T4 ABC-ErkKW current state
t4 bergedorf.jpg (25.05 KiB) Viewed 11081 times

T4 ABC-ErkKW intermediate state
erkunder fw hh.JPG (62.04 KiB) Viewed 11083 times
---
No, this ain't the prodigal son.
Feuerwehr Dachau's MFG (Meßfahrzeug Gefahrgut = hazmat metering vehicle) is a 16" Syncro, but Florian Dachau 98/1 is from 1991 and converted privately. A nice and interesting Bus anyway. 95 h.p. petrol with catalytic converter.
Stunning news, however: I found the holy grail
Infos and pics to follow
Please wait in suspense
Attachments

Dachau98.01.jpg (296.36 KiB) Viewed 11041 times

Interior furnishings to store reference books, measuring instruments etc. and to operate the PA system.
dah innen.jpg (20.96 KiB) Viewed 11041 times
---
Nice one Roland! I like that HazMat monitoring bus!! But you have news of the Holy Grail? With pictures too???! The suspense is killing me!! I look forward to seeing this!
---
Now I'm able to unveil the mystery!
The T3 Syncro prototype is still in service and could be sourced near Dortmund at Feuerwehr Hagen, Löschgruppe (= extinction sub-unit) Reh-Henkhausen. I got in contact with their chief Johannes Krumme, a very friendly fire fighter comrade who provided me with pics and infos, many thanks again at this point, Johannes.
Amazingly they didn't know till recently what unique specimen they have! They got it around 1997 as a successor for their decommissioned VW 181 via KatS garage Bochum which might have done some modifications. Before that it had been tested at Bonn (hence the former 'BN' number plate and any KatS number begins with an '8') and Hamburg.
Florian Hagen 20/93/1 is a Turbo Diesel with ABS.
Attachments

Note detachable blue light and flexible reading light on dashboard
hagen 1.JPG (323.41 KiB) Viewed 11020 times

Note additional roof indicators
hagen 2.JPG (304.95 KiB) Viewed 11021 times

Note HIRSCHMANN mast sitting at a different place and having different brackets compared to FüKW-TELs
hagen 3.JPG (319.26 KiB) Viewed 11020 times
---
Some more photos of this beauty.
Attachments

Note nearside monitoring flap
hagen 4.JPG (316.48 KiB) Viewed 11014 times

Note water tank cap (same as used on WESTFALIA campervans!) placed where 2WDs have their filler cap. Also drawer locker and full height bulkhead with sliding window like used on ambulances, police cars etc.
hagen 5.JPG (319.39 KiB) Viewed 11012 times
---