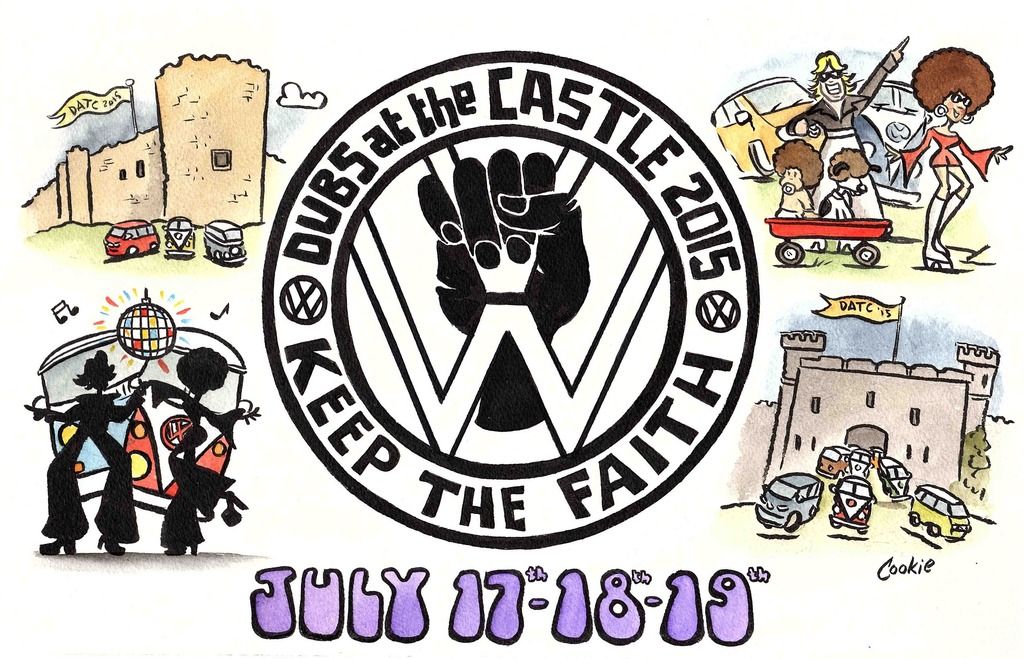 Well Guys DATC is Back for 2015
July 17th-18th-19th
Free Auto Jumble plots this Year @ DATC 5m by 5m all you need is to Buy your Camping Tickets and you need Rust Bits to sell
Most of you will know by now, every year we have a fancy dress theme, more and more of you are joining in with our yearly themes.
The theme for DATC 2015 fancy dress is Back to the 70's
BAND NEWS........
Friday Nights Band ( Spirit of Boogie ) playing from 8.30pm to 11.30pm
Saturday First Band (Men in White Coats) will be playing from 7.00 pm to 8.30pm
Saturday Main Band ( Big Mac's Wholly Soul Band ) will be playing from 9.00pm to 11.30pm are playing
Help make the show fun and get your costumes ready for the show in 2015.
http://www.dubsatthecastle.co.uk
TICKETS ARE NOW ONSALE
Address
Caldicot Castle,
Monmouthshire,
NP26 4HU
Southwales
And again this year Dubs is a prebook show only once we sold out we sold out.....
Dubsathecastle is a Family Run show for familys to come enjoy the V Dub Vibe just come a Chillout
prices below
Online Event Ticket Sales
Dubs at the Castle 2015 at Caldicot Castle
Gate will Open 9am Friday Morning ,,,,
Like every year everyone wants to come early so for this year
We will have the Thursday Early Ticket for sale @ £10.00 Per Adult with only 250 units once there sold there sold .....
Again for 2015 Prices stay the same No Extra Charge on Top you just need to print your ticket and Vehicle pass off....
3 Day Weekend event ticket Friday - Saturday - Sunday Night including camping for one person "Van / Car and Tent" Access to the 3 days event including camping ( van/car and tent only) Children under 16 go free
£25.00 Per Adult.
Caravan / Large motorhome" IF YOUR BRINGING ANY OF THESE ITS A extra £25.00
Day Price Saturday
Saturday Day Ticket Access to the event Children under 16 go free
£10.00 Per Adult
Sunday Day Ticket Access to the event on Sunday Children under 16 go free
£10.00 Per Adult
Dubs at the Castle VW show event Caldicot castle, Monmouthshire.
A family 3 day camping event with lots to do including, Trade stands, Children's entertainment, Live bands, Competitions, Discos, Show and Shine, Club Camping, Auctions, Trophy winners, and much more.
_________________
http://www.dubsathebeach.co.uk/
31st July 1st-2nd August
tickets now sale